The Motorcycle Theory Test | Free Online Practice Test
The motorcycle theory test is designed to gauge your knowledge and understanding of the basics of riding, essential to developing your practical skills.
A hazard perception test will follow the official theory test and you have to pass both in order to take your practical motorcycle test.
Taking the Theory Test
The motorcycle theory test is unique to bikes, so even if you have passed a car theory test, you will need to pass the separate motorbike questions.
You will be asked 50 multiple choice questions.
Each question will give you several possible answers. Some questions may have more than one answer.
The pass mark is 43 out of 50.
You have 57 minutes to complete the test.
You can always 'flag' any questions you are stuck on and come back to them at the end of the test.
If you don't answer all the questions with 57 minutes your score will be calculated from the questions you did complete.
Online Practice Theory Test
Get On has provided an online mock theory test that replicates official questions. This free practice test will help you understand what areas of questions you need further revision on before you take the official test.
Simply click the answer you think is right and if you want to change your answer, first deselect your original answer and then click on another one.
Please note that some test questions have more than one correct answer. Once you have selected an answer you can then precede to the next question.
If you are unsure of an answer you can 'flag' the question and continue. You can come back to any flagged questions when you have completed the test.
Once you have completed this mock test you will be told whether you have passed or failed and are able to review the questions you got wrong.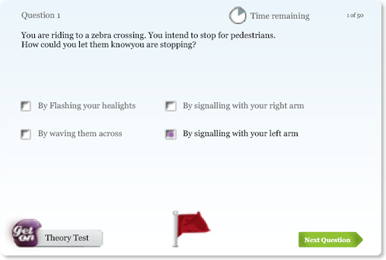 This mock test is free and is available for you to take as many times as you wish. It is only a representation of the official test and the scores gained here do not count towards passing your official test.
Click on 'Theory Test' to be to begin the practice test.